Discussion Starter
·
#1
·
It happens all the time... some critical anchor point has a screw fitting fail (particularly when that screw is into a sandwich of glass and structural foam).  Lots of halfway measures will help you re-attach that screw.  The problem is that "halfway" just doesn't last (and if you're on the water day after day...).
Whenever I can I replace a failed screw with either a through bolted machine screw with fender washers for backing, or failing that a toggle bolt for blind installations (where you can't get to the underside of the fitting.  The only problem with toggle bolts is that you need some room underneath (the blind side) for the toggle to deploy.  Failing that, you've got to get creative.
Here's something I've used in the past that really works to replace a stripped out screw and it worked great in this instance.  All that's needed is a short piece of wood dowel with a big enough diameter to allow you to drill a hole in the center to accomodate that screw.  In this instance the screw securing my rear pushpole clip was a #14 (pretty large...) so the minimum size for that dowel was 1/2" (I considered using 9/16" or better yet, 5/8" dowel - but the 1/2" should hold just fine...). 
Here's the technique.... cut the dowel as long as your screw, then center drill it to accept your screw (you want it just a bit tight).  Next, carefully drill a 1/2" hole at right angles into the old screw hole.  You'll know you've done it right if the dowel is a very tight fit...  If there's much moisture in the drilled out screw hole you may want to let it dry for a day or so before the next step, but if it's dry you're in business... Using two ton epoxy or similar two part epoxy glue, coat the screw hole and the dowel (make sure to also coat the inside of the hole in the dowel) then carefully tap it into place, very slightly deeper than the deck surface.  When this step is completed you'll have the dowel in place and every portion of it is coated lightly with epoxy.  Allow to dry for 24 hours and cure out, then simply re-fasten your item with that screw and you're ready to get back on the water...  Here's two pics that show it all...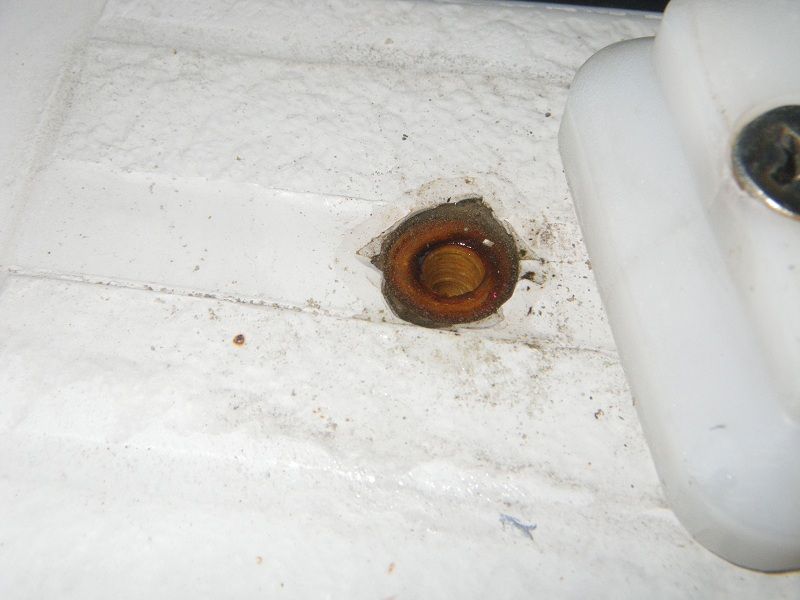 By the way... this same technique can be used to plug an old screw hole as well. For a plug just use the smallest dowel that will fit - after you've drilled out that old screw hole.... Next epoxy it and tap into place, slightly below the surface of the glass.... When it's all cured properly, lightly sand the edges and lay in a just enough gel coat to bring things back to level (done properly you can eliminate a screw hole so effectively that you can't see it was ever there....).