St. Johns/Econlockhatchee Rivers Fishing Report
Thank you for reading this St. Johns/Econlockhatchee Rivers Fishing Report. In a rare event, only fished in freshwater this week. Didn't carry a camera, all photos are from the files.
Fishing!
Monday
On an overcast and windy day, I fished the Econ on foot. It's a bit higher than I like but is fishing anyway, not that it was great. I got two bass in almost three hours, one on a plastic shad, one on a Culprit worm. In their defense they were both decent fish. Quite a pleasant outing.
Tuesday
Launched the Bang-O-Craft at Mullet Lake Park. Goals were to check out some new (to me) areas and hopefully find some breaking fish. First goal was accomplished easily, even got kind of confused at one point.
I trolled quite a bit with a Shad Rap and crappie jigs, and cast quite a bit too. I got one stumpknocker on the plug while trolling, the only touch I got.
It was a nice day if a bit breezy. There was only one truck in the parking lot when I got there- I figured it would be slow.
Wednesday
Had Susan drop me off with the kayak at the 419 bridge crossing over the Econ, about 9 am. Wasn't out of earshot of the road before I had my first bass, on a
Culprit worm
. It was a spectacular day and I hardly paddled, just letting the current push me along. Fish didn't come frequently, but it was pretty steady. I got a dozen or so to maybe three pounds, losing a bigger one.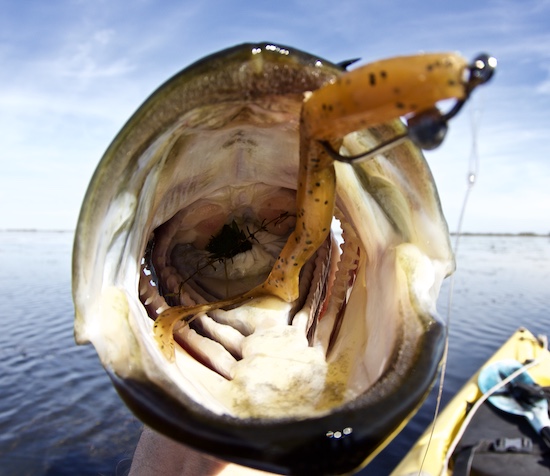 I tried fly casting a little bit but didn't touch a fish.
Wore my waders for the first time this season, and was glad I did. The air was chilly in the morning, and the water was chilly all day.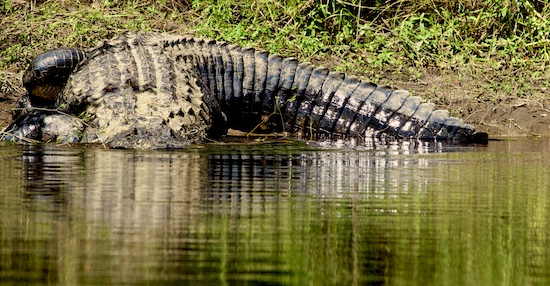 Godzilla was there.
I didn't see another soul on the water, which was nice. In the morning I had the river to myself. In the afternoon there was a reptile at every river bend. They came in two sizes- large and gargantuan. I saw a half-dozen 1000 pound gators. Usually when an alligator realizes you're there they slide into the water, but a couple of the biggest didn't move from the bar as I passed. They just watched me. Were they salivating???
I don't know what those Econ gators are eating, but they're eating plenty of it- they are all fat and healthy.
At 1 pm I still had a long way to go. I put the fishing rod away and started paddling like I meant it, arriving at Snow Hill Road about 430.
Friday
About noon I launched the Bang-O-Craft at CS Lee Park. My idea was to run up the Econ and float back down. I never made it past the confluence.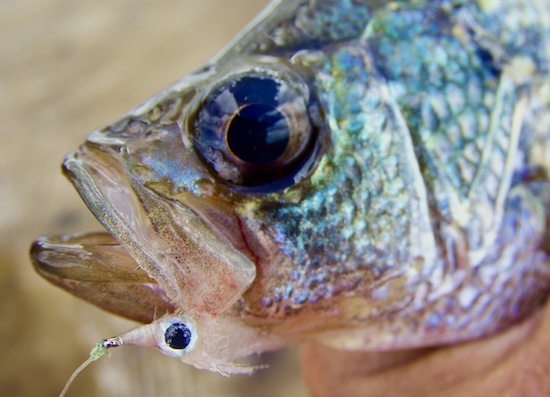 Crappie on the fry minnow.
There were breaking fish there. Using both fly and spin rods I got at least 30 fish- three crappie, three striper hybrids (I love those!), a dozen or so bass, and a lot of bluegills and redbellies.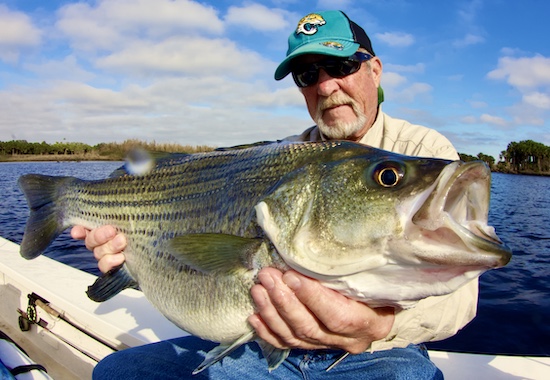 This is the largest hybrid I've seen in the St. Johns, caught on an Al's Goldfish.
For flies the fry minnow worked well. On the spinner I got a few fish on an
Al's Goldfish
, but most came on a
Creme Spoiler Shad
.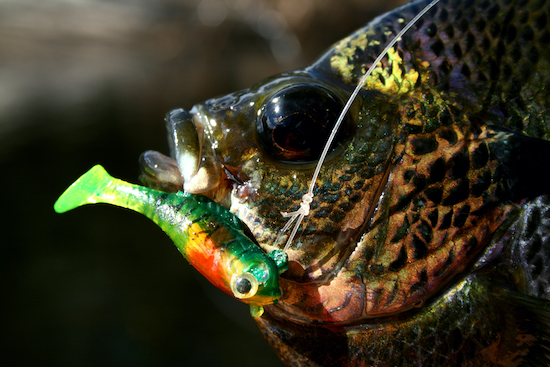 Bluegill on the Creme Spoiler Shad.
One weird thing was that fishing was best at mid-day and got slower and slower as the afternoon progressed. You would have expected that to be reversed.
And that is this week's St. Johns/Econlockhatchee Rivers Fishing Report. Thanks again for reading!
Life is great and I love my work!
Every day is a blessing. Don't waste it- Go Fishing!
John Kumiski, author of Fishing Florida by Paddle- An Angler's Guide
Purchase Fishing Florida by Paddle- An Angler's Guide at
http://www.spottedtail.com/fishing-florida-by-paddle/
All content in this blog, including writing and photos, copyright John Kumiski 2019. All rights are reserved.