·
"The Flats Solicitor"
Discussion Starter
•
#1
•
For Sale: Full Deck Classic with 1999 Mercury 15 HP 2 stroke and galvanized trailer
Here is a list of what will be included with the boat.  I might entertain keeping the motor if you already have a motor.  I love this Mercury 15 HP 2 stroke.
• 1996 White Classic with a full fiberglass core foamed deck and 5 hatches
• Custom core-foamed ½ fiberglass deck (removable) with 5 Jim Black marine hatches and foam deck surface (material cost alone $800).  This deck is very strong.  I have had guys on the boat over 300 pounds.  The deck also seals the boat from water coming over the rails.  I have ran the boat in 2-3 seas (yes, I know not wise, but I want to see how well it keep the water out, worked great.)
• Mercury 15 HP 2 stroke in great condition (approximately 70 hours)
• 4 blade stainless steel Power-Tech prop
• 6 gallon poly fuel tank
• Galvanized trailer
• LED lighted 20 gallon plumbed live well with recirculation and transom-mounted fresh water pick-up that fills the livewell under power.
• Tom C black anodized electric jack-plate. Switch mounted in TillerPillar extension for adjusting while running ($600)
• Birdsall black anodized trolling motor mount.  ($125)
• Minn Kota Saltwater Ripe Tide trolling motor (transom mounted on Birdsall mount) 40lbs thrust
• Dual bilge pumps (one auto, one manual)
• 2 TillerPillar (3 foot length carbon fiber extensions: trolling motor and outboard: $350)
• 1 CastingPillar (carbon fiber casting platform and hardware: $400)
• 1 Stiffy Stakeout pole 5 foot (used for stake-out and a grabber: $75)
• 1 Group 27 battery
• Weatherproof deck-mount electronic switch bank for all switches (baitwell, running lights, bilge pumps: $100)
• TinyTach tachometer for Mercury outboard
• Running lights
• Surface mounted rod holder in deck
• Push-pole mounts (push pole not included)
This boat runs 22-23 MPH with 1 adult and 19-20 MPH with 2 adults.  It floats in approximately 4 inches.  I am selling this boat to make room for a new boat to use as a product demonstration boat for Carbon Marine carbon fiber skiff accessories.  I have been running this boat for about a year.  I run it from Double Branch to Weedon Island and across Tampa Bay all the time.  I can beach launch from most dirt ramps.  Several guys on this forum have fished it.  The full deck is awesome for sight-fishing. Note: TillePillars and CastingPillar not pictured.  They were added after the photos.  Call me to see the boat and test run (weekends only).  Joe Welbourn 813.928.9887 (cell)
Price with motor: $4700
Price without the motor: $3700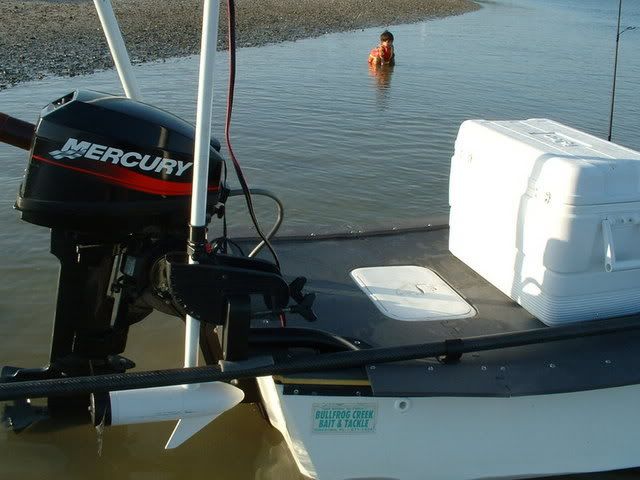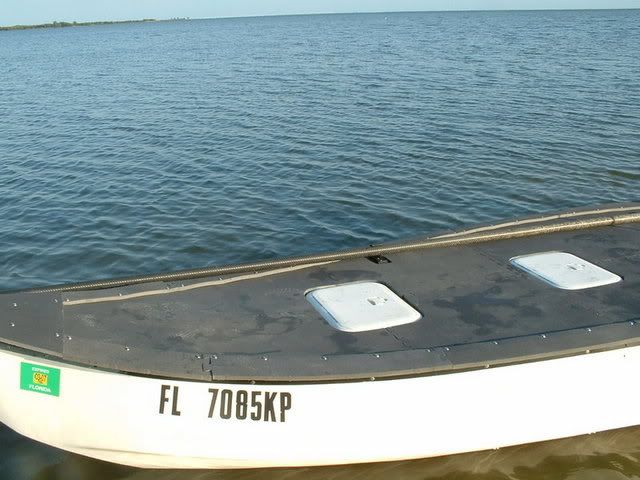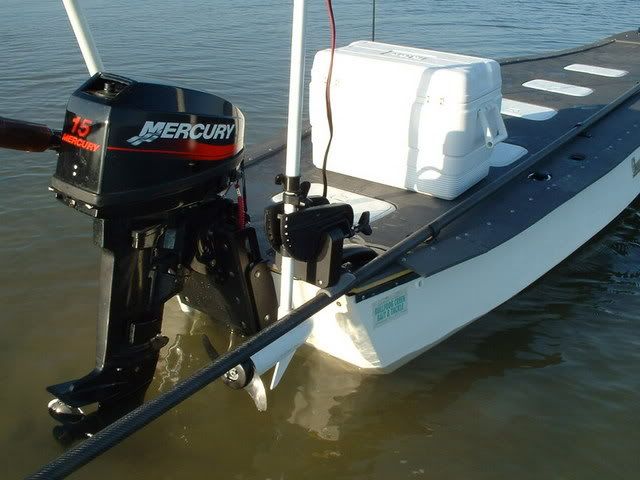 Joe