Well known ms Fly Fishing forum member "Backbone" and I went this morning to find some reds to play with on the flyrod. Air and water temps couldn't have been better. Bluebird Florida winter day, starting out in the low 70's and working to the upper 70's at high noon. Water temps were nice, in the low 70's. It was slow going 1st thing in the morning but as the tides eased up on the flats, the reds pushed in and starting following the mullet schools for something the mullet stirred up.
I was up on the poling platform on his sweet HB Professional and Backbone was was up on the casting platform. After a few good shots at some reds pushing thru, this fat boy came in to view. I called it out to Backbone and he threw the most perfect 60ft cast that you could ask for and drop the fly right on the fishes nose.... and he ate it! Nice eat for sure and the fish was full of it, pealing a decent amount of line off the Abel's spool a few times with some good authority. The cool 70+ degree water temps and fresh clear incoming, oxygen enriched saltwater kept that fish in high gear.
Backbone had a nice self land, quick pic and a nice release, where the fish was in a hurry to leave and join the others.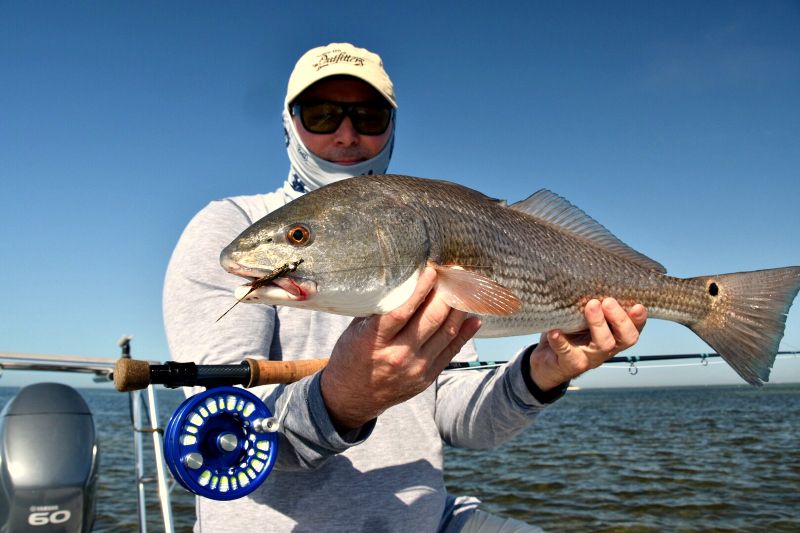 Notice the blue tipped tail. That perfect spot was the same on both sides!
We both had more shots at nice lots of nice redfish and big snook, than we both deserved. But for some reason, either they didn't like our ugly flies ( Lol ) or they had lock jaw for the rest of the afternoon. All in all, it was a great day on the water.
Ted Haas