Discussion Starter
•
#1
•
Found this boat on Craigslist for $60. Although the Title (It had a title!) lists the manufacturer as General, it is most likely an early Lucraft Trihull. It's identical to pictures on the internet of 14 Lucraft Trihulls from the early 1970s. Here is a 1973 Lucraft...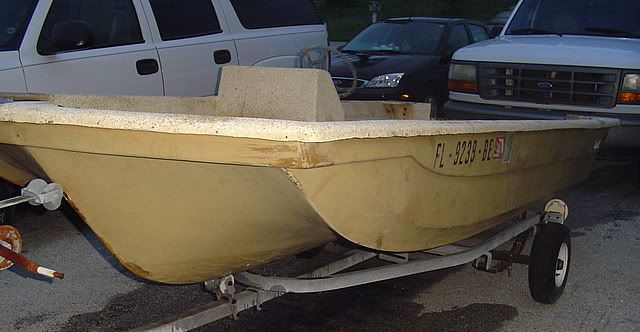 This is going to be a bit different than most of the build threads in that this boat is not going to be a fishing machine. I am building this so my kids have a boat to use around our home in St. Pete. It will be used as a Canal Cruiser when visiting neighbors and friends and we will also take the boat to the rivers, like the Weeki Wachee, for fun and scalloping.
The boat was in very bad condition, and probably should have been landfilled. Every scrap of wood, from the transom to the floor, to the block behind the bow eye was worm food. There were cracks in the hull and the rolled edge was cracked and broken in several places. The strap in the second photo is holding it together because the rear seat was detached from the hull side.
Despite it's condition, I kind of fell in love with it's retro style, like the ribbed front deck, clunky bow light pod and the anchor locker eyebrow.
My rebuild plan is to convert the boat into a flats-style center console with a raised rear deck similar to this one found in the gallery...