Discussion Starter
·
#1
·
********************************
This post is to assess costs and needed hardware for my rewire project.
********************************
The current electrical system on my boat is in pretty bad condition. There is no dry storage anywhere, and this is what it looks like.
This photo is looking at the rear storage compartment, which stores all of the electronic components, to give you some perspective.
This next photo, is in the compartment, to the left hand, side. It has my fuse box, and main battery feeds (the big black and red wires at the bottom left). All of this gets very damp regularly. As  you can see, this is not a good situation.
This photo is of my live well pump, which feeds from the bottom of the boat. You can see the yellow handle, that is basically a shut off valve, if say the boat starts to flood from the live well pump. Which has happened, lift up the seat to see the live well pump off of its fitting, and water dumping into the compartment - I nearly sank. Just behind and under the live well pump you can just barley see one of my bilge pumps. The one in this picture works as intended somehow.
The next photo is of my right side bilge pump. This one, if I flip the switch I can hear it turn on, but it doesn't appear to function but at maybe 5-10% of it's rated GPH. It definitely does not sound the same as the functioning bilge pump though.
Then on to the right side of the compartment, we have my battery in a trey. It has premium grade
"wing nuts"
wait! I'm sorry I had to do it Brett. No it is securely fastened with lock nuts. The battery itself seems new, and in good condition.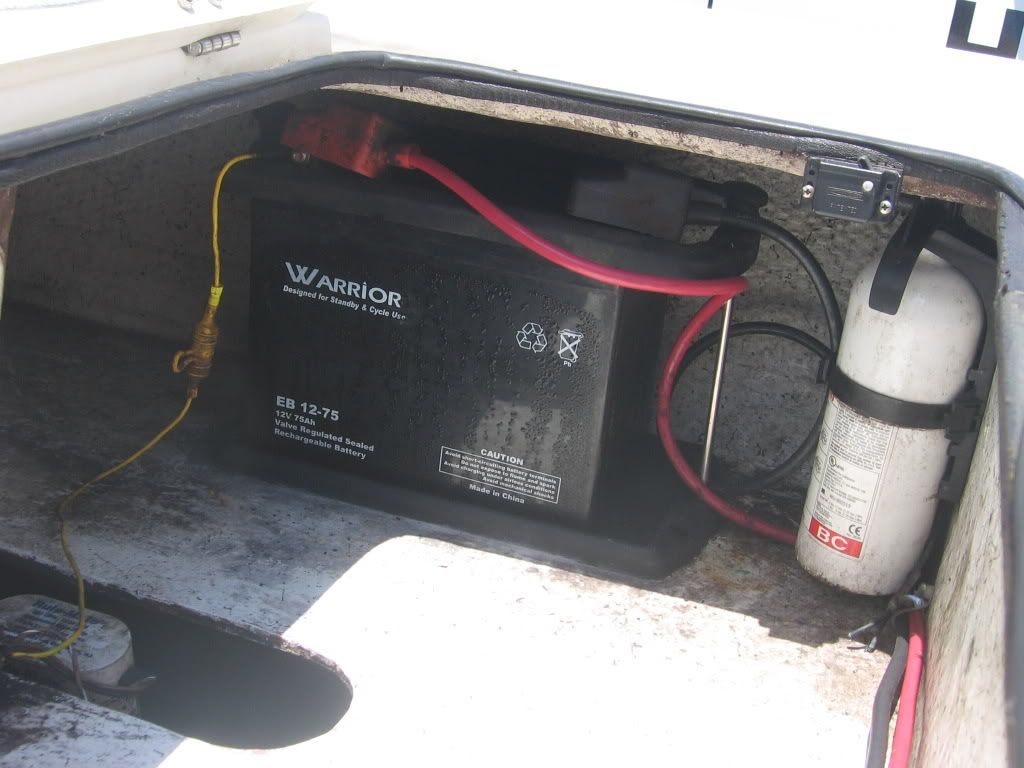 Now I'm going to take you out of the back storage compartment and take a look at my switches. They are relatively simple. The two on the right hand side of the cluster are for my trim tabs. Toggle Up, Toggle Down. The third switch from the right is my Live well/Bilge Pumps. Push the switch forward for live well, push it down for bilge. And Finally, the switch on the far right is my running lights. Push it forward, both aft and bow lights come on, push it down, only the aft light comes on.
And here is a picture of the ugly wiring that went into making all those switches work.
I do have a pretty good idea of what I need, one of my biggest questions, how much cable am I going to need for this--How do I estimate this? Is this something that could be done over a weekend? (I don't want her down for to long)
Other than that, I could really use some advice on the best way to go about doing this. Should I just remove everything and start fresh? Or should I wire chase, labeling each wire, replace and re-run as necessary? All the red wires actually look orange leaving me to believe they are as old as the boat. Some of the heat shrink on the cable connections seems dry and brittle as well.
Thanks you in advance and I look forward to your responses.