Discussion Starter
·
#1
·
Last Friday I went to Lauderdale to pick up my new ride; a 25' Sea Vee with a 250 OSX Yamaha on it.
I drove it home from the guy I bought it from, 70+ miles and it rode perfect. Cruised at 31-31mph in a sloppy 2-3 sea very comfortably.
The hull is a '94 and in perfect structural shape. Seems I'm a sucker for older hulls that are solid. I don't like the current trend of integrated brackets on the new boats, too hard to fish around and there's no cockpit space left.
The hull needs some TLC as it's been out in the sun for a few years. Cushions are shot and I'll need to do some mods to the T-top and leaning post to get them to my liking.
But it's a good, solid hull and a great start. I'll be going through all the electrical and bringing anything suspect up to date as always. She's been re-wired already and from what I've seen it's done right so it shouldn't need much.
The two things that sold me on this hull is that there is TONS of storage room and it's all below decks which leaves completely flat floors from bow to stern so there's nothing to trip over, or step up on.
This is the best offshore fishing platform I've ever owned.
She's got 6 storage lockers (3 on each side) that are 4' long each, a below-deck pill box for fish storage that me and you could get into together without bumping uglies, an anchor locker forward of that, and another anchor locker vertical in the front of the bow.
I found a great deal on a very nice Rolls Axle trailer to sit her on, and am really happy with it. It's built like a brick sh*t house, all stainless and AL construction, and very easy to adjust.
I've already started on re-doing the coaming bolsters with new naugahyde and new 2" foam, cushions are being redone by an upholsterer.
The bottom was painted many years ago and is in desperate need of either being re-done or stripped completely. Since I trailer it, it's going to be stripped tomorrow by a friend who I'm swapping some work for. I'll be painting the bottom with interlux's 2-part epoxy with teflon, a paint designed for this application that's as close to gelcoat as you can find. Bottom with be done in white and everything from there up will be rolled and tipped with awlgrip sea foam blue. New stainless rub rail should bring her up to date.
Then I'll turn my attention to making the in-deck livewell larger and adding a second above-deck livewell under the leaning post.
Will post pics as she undergoes the transformation so y'all have something other than Brett's infinately interesting and informative posts to read.
.
Some pics to start you off:
On the lift when I picked it up:
Here you can see the purple (WTF?) boot stripe which WILL be coming off and replaced with a black and gold leaf one after paint...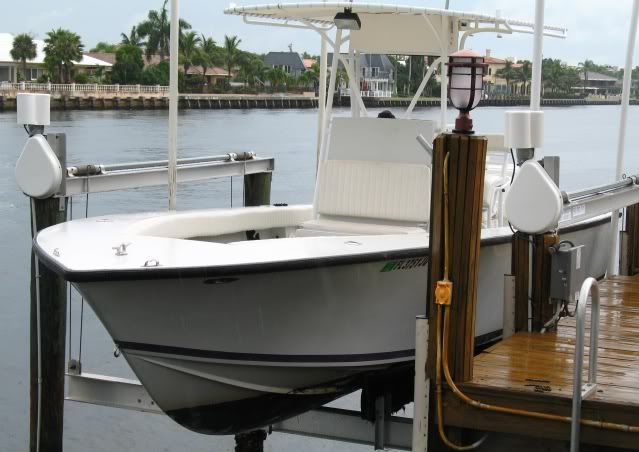 This is a shot of the same hull, but not the one I bought. Only shot I had to give you an idea of the fish box in the bow: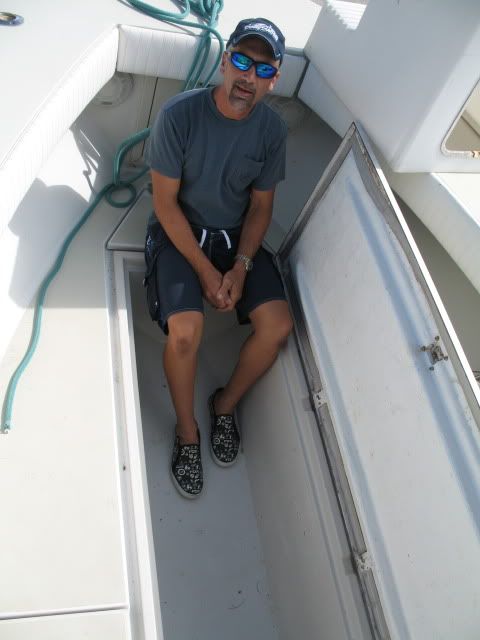 Last one of the "before" shots, showing dash and layout:
I've got my work cut out for me, but she'll be beautiful when done. And a more seaworthy offshore hull I don't think I can find for twice the price!