I'm always looking for a better way to do something if I'm not totally satisfied with what I'm working with. I'm still a big fan of Sally Hanson's Hard as Nails for various things like finishing head wraps.
I'm constantly looking for better super glue since they all have their problems. Lately, over the past year or 2, I've settled in with Krazy Glue, with the brush (it's a type of super glue) for simple thread locking during the tying process ...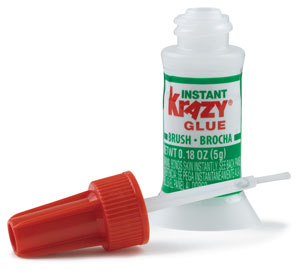 and Loctite Professional Liquid for locking in lead eyes and tight holding tread wraps that I felt needed an extra serious holding strength.
I like the ease of the brush with the Krazy Glue but the brush bristles are long and tend to get bent since the hole in the bottle is rather small, so bristles are constantly getting caught on the hole edges and bending. Also, it has a dried out finish and the glue is not super strong, but the smell is (can be a bad thing with the smell and what a fish smells).
The Loctite brand has several super glues.
I use to love the squeeze side bottles. But it wouldn't last that long over time before 1/2 the liquid would set up while still in the bottle. The regular super glue is a little better than the Krazy glue but doesn't has the convenient brush. But it's a bottle of liquid glue and last way longer than those cheap tube of super glue, which will harden up after half of it's use where the Loctite bottle of super glue wouldn't and has about 4 times the liquid (but cost more), However, the end constantly get's clogged up, tho I always wipe the tip with a paper towel before I put the lid back on it (so it doesn't clog from the drip remailing on the tip and doesn't glue the cap on. Still, the liquid remains in tact, which I like. So I have to ream the hole out with a bobkin needle about every 3rd use.
So Loctite came out with the Professional Liquid super glue which I liked better because it was clearly better and had more strength (the strongest I've found to date) and still had the newer liquid bottle that lasted longer than the squeeze bottle.
One of the coolest features of this glue besides it's strength was that it dried glossy, which would work to finish heads, if you didn't want to use the Sally Hanson's stuff.

Note;

Don't super glue your head thread and then later finish it off with Sally Hanson's, because the 2 glues will react with each other and cause the finish to become white for some reason. Anyway, back to the Pro SG. The problem still exsit where the tip of the bottle get's clogged up, like the regular Loctite Super Glue. Both of those bottles have pin holes so there is not as much air exposure to the glue, so it's stays liquid, unlike the large hole in the bottle of Krazy Glue, whereas, the glue tends to thicken over time because that glue kicks quicker than the Loctite stuff. So you are paying for a full bottle of KG but you only get half the use out of it because it get's too thick to work with.

THEN

....

. About 2 months ago, Loctite came out with a

small bottle

of Loctite Super Glue with a small brush. It's only .18oz.
I'ts about a 1/3 the size as the Professional Liquid and I believe it's the same stuff and has a glossy finish, so it can also be used as a thin head cement. It's also 1/2 the cost (about $2.49). What I really love about it is they enclude a brush which is 1/2 the length as the Krazy Glue and has a nice wide opening in the bottle mouth. So it doesn't clog and the brush doesn't get caught on the edge. Also the glue is a slower curing glue so you have a little time to use it and not kick off the whole bottle. Plus the slower curing resin gives you a little time to make some minor adjustments before it sets. It also has hardly any smell to it after 24hrs, where others still has a smell to it.


So to date, the "

Loctite Super Glue Brush-On

" my favorite super glue!
All these glues mentioned above can be found at Wal-Mart!

Finall
y, this winter, my new buddy Ken Tutalo who has a winter home down here showed me a glue he's been working with for a few years now. Ken is an amazing guy but really an amazon hard core fly fisherman and fly tier. He's 52 now and started tying production trout flies for money when he was a teen (that dwarfs my 27yrs of fly tying). He has no problems throwing 100 hooks on the table and like a machine, systematically tie them all up identical to each other in a few hrs. He even has fly tying CD's with flies that he's developed exclusively on the upper Delaware River, in the mountains of New York for big browns and rainbows. Him and his wife own's the Baxter House Outfitters (shameless plug -
http://www.baxterhouse.net
) on the Delaware River for over 30yrs and employees 6-9 guides in drift boats during season. He's one of the most accurate fly casters I've poled around in a very long time and has been an IFFF fly casting instructor for over 30yrs (Master Casting Instructor now). He also so owns a fly shop up there where last year, he sold over 33,000 flies. This year he's expecting to do 35k flies. He also raises specialty chickens and sells their capes (lots each year). So he's no small potatoes and a amazing guy to fish with!
That being said, I developed a great deal of respect for the guy and when he wanted to show me something, I listened. We were talking about glues for fly tying and he tossed me a bottle of "Liquid Fusion." He said this is the best stuff he's found for gluing on epoxy eyes. It's basically a 1 part urethane resin that is slow setting and takes about 5 minutes to really start to kick. Of course that gives you plenty of time to work with your materials but it's not fast. It also doesn't need a UV light to cure but it doesn't cost no where as much. So you don't get the benefit of instant gratification as with UV resins but you save $$. It really cures good after 3hrs and I believe it's fishable after 12hrs.

The GO2 that you all know I like works for epoxy eyes, but they've been known to peel off after some hard use. So far with the Liquid Fusion, I've had flies get completely shredded and the eyes will still be attached (way better than a pirate eye fly! Ha!). The resin is very clear once cured and acts more like nylon than urethane. It's not soft, harder than the GO2 glue but not as hard as epoxy. Maybe more inline with a soft epoxy, but only 1 part, which is way easier. I also like the tip dispenser and it's easy to wipe clean after each use with a paper towel and it stays clean and unobstructed. No real smell to speak of and after it sets fully after 24hrs, I can't smell nothing, which is very important with either getting bites on your fly or not. Believe me when I say I've played with just about everything out there in the glue department to keep epoxy eyes from getting ripped off, especially by tarpon. But the smell on most of them is obnoxious and will actually keep you from getting bites (because they'll smell it).

A 2oz bottle of Liquid Fusion runs around $10.00 and can be bought at Ken's fly shop or I've seen it at Micheals One thing to note is I've coated some thread wrapped heads that I've needed a little more bulk to it and it seems to work good. but take a few minutes while rotating your vise, to get it to setup.

So for gluing on epoxy eyes, "

Liquid Fusion

" is my new favorite go-to glues!
Good luck with it and have fun fly tying!
So below are my 3 "must have" fly tying gluing staples to have on-hand,