Discussion Starter
·
#1
·
Mosquito Lagoon Fishing Report and Econlockhatchee River Fishing Report
This fishing report covers the Mosquito Lagoon and the Econlockhatchee River.
Picture of the Week, from my friend Kevin Linehan-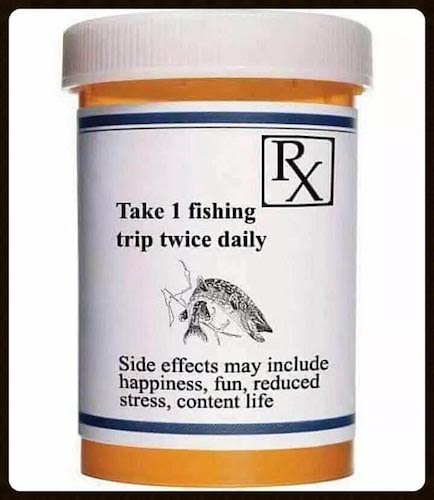 Monday Tom Campbell and his friend Jack joined me for a day's fishing from the Mitzi on Mosquito Lagoon. Jack started the day with a trout and a redfish within minutes at the first spot we stopped. Then Tom and Jack doubled up on slot reds! I'm looking at an epic day, maybe.
No, we pretty much had shot our load already. We caught plenty more fish, mostly undersized trout and a couple dink reds. But an epic day it was not, and as so often happens, all my scouted spots were dry this day. So goes life.
Tuesday Tom Campbell and his friend Jack joined me for a day's shad fishing from the Mitzi on the Econlockhatchee. We got shad at the first place we stopped, and at every other spot as well. We'd fish a spot until the bite slowed, then go to another. I tandem rig the jigs. We had six or seven double hookups during the day, and probably got 30 or so shad, as well as bass, sunfish, even a crappie. Good day. Thanks for fishing with me, Tom and Jack!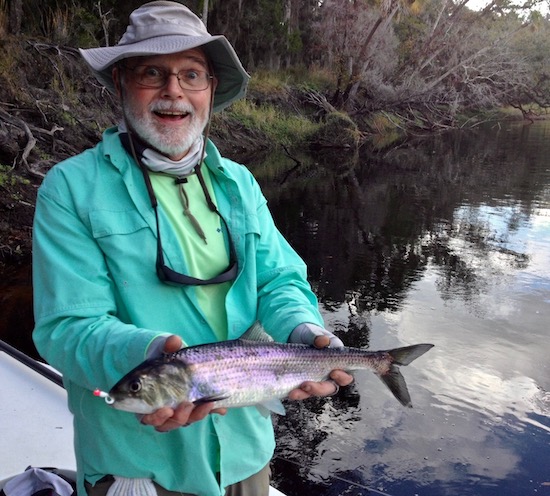 Wednesday we did not fish for a couple reasons, one of which was the cold rain that fell all morning.
Thursday Tom Finger joined me for what began as Mosquito Lagoon fishing. We got there and it was all whitecaps. We reversed our field and went to CS Lee Park to fish for shad. The shad fishing had fallen off a cliff. We worked it most of the day in both the Econ and the St. Johns and only got six or seven. The best fish of the day was a big crappie from the Econ. Thanks for fishing with me, Tom!
On the way home I stopped at the Snow Hill Road bridge over the Econ and fished ten minutes. Got three shad for the best fishing of the day. ARRgghhhh.
Friday I went kayak scouting out of River Breeze. There is a lot of fishless water around there. But if you look in the right places there are trout and reds. Quite a few fish were caught, including a season's best trout of seven or eight pounds. No photo, don't want to hurt those girls.
Saturday Steve and Brad Myott joined me for some paddle fishing in Mosquito Lagoon. We paddled quite a bit. I thought the fishing better on Friday, but Steve got his personal best redfish and Brad got his personal best trout. They kept a couple slot trout for dinner, too. Beautiful day, great people. Thanks for fishing with me, gentlemen!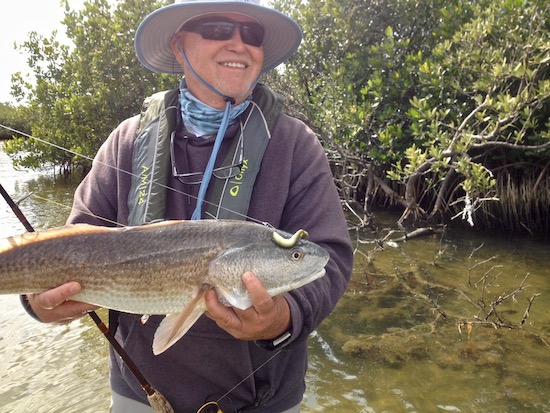 That's this week's Mosquito Lagoon Fishing Report and Econlockhatchee River Fishing Report! Thanks for reading!
Life is great and I love my work!
Life is short- Go Fishing!
John Kumiski
www.spottedtail.com
http://www.spottedtail.com/blog
www.johnkumiski.com
www.rentafishingbuddy.com
https://www.smashwords.com/profile/view/jkumiski
All content in this blog, including writing and photos, copyright John Kumiski 2019. All rights are reserved.