I know bluefish are mostly targeted in the North East. A lot of fishermen, much less fly fishermen, don't know that bluefish are in Florida. Some savvy anglers here in Florida in the "know" often welcome a bluefish surprise on the business end of their line. With the hard pulling action and veracious strikes, they make for a great targeted specie. Catching them throughout the years, more of a by-catch as opposed to a targeted fish, I welcome everyone of them who are willing to jump onto the other end of my line, especially my flyline.
Over the last few years, if I know that show up in certain, I will purposely target them. To me, the fight I get out of them reminds me more of a snook than other fish like jacks, mackerel, sea trout, etc. The difference in the fight is they wouldn't run to structure to cut the line off, as well as not jumping like snook do. However, they do have their own build-in pair of scissors with their razor sharp teeth, where they can cleanly cut line in an instant. With that, I try to use at lease a 30lb fluorocarbon bite tippet. Tho I've caught them on light wire bite tippet while targeting mackerel, they seem to be wire shy. I've caught plenty on 30lb FC tho.
My buddy Ken and I went out early in the week to go play with some jacks on surface popper flies, then go look for reds following mullet schools up on the flats. When we pulled up to the area, we found the jacks running bait up and down the shoreline and it didn't take long to entice them on a Saltwater Hair Popper. Had it poppin up a storm! Ha! This is the one I threw up on the fly thread.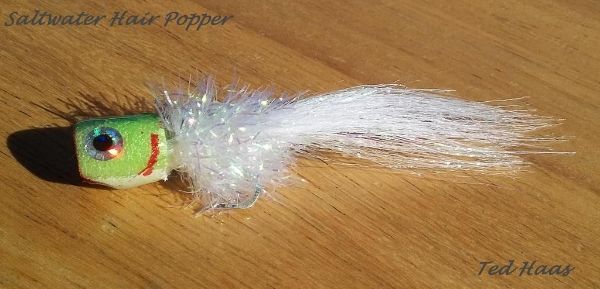 Air temps started in the low 70's and dropped into the upper 60's. The water temped started in the low 70's and dropped to 70 degrees. Of course, normal Gulf coast winds at 20mph with gusts up to 25mph.
Caught about 6 small jacks (nothing to write home about) and then something busted it had and took some drag. Was a good fight but didn't feel that familiar rhythmic head thumping, typical with a jack. Then it surfaced and I knew what it was.... "Bluefish" I said! It was really fun on a light 8wt flyrod.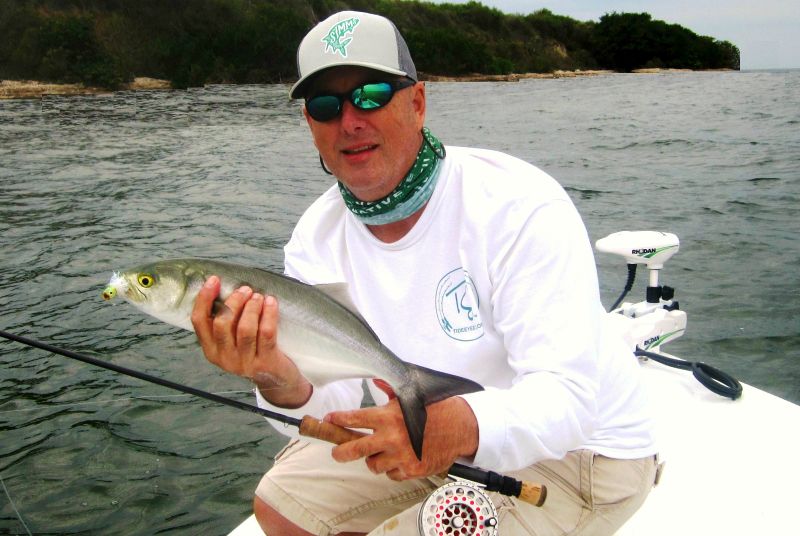 I was surprised the soft bodied head of that popper was still in tack.
Here's what it looked like after 6 jacks and 1 bluefish.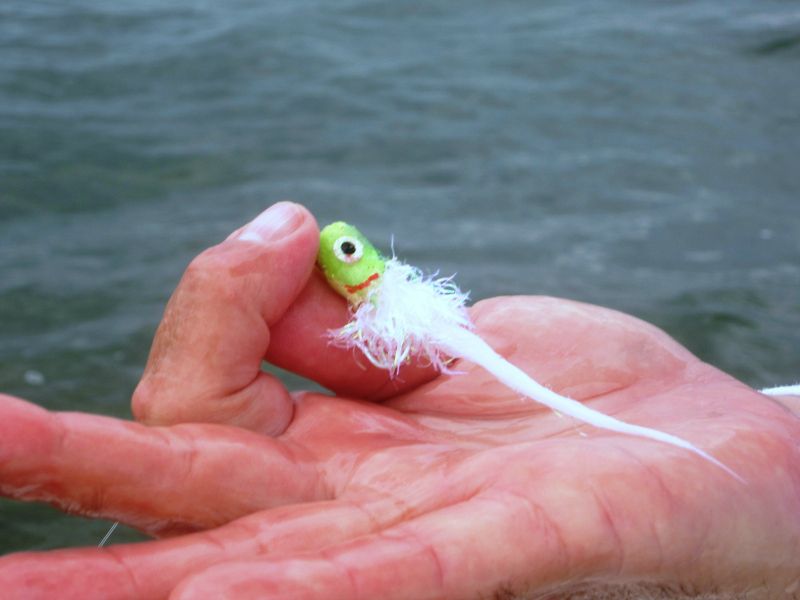 Went to the outside edge of that flat and found some hard bottom in deeper water at the edge of the flat near the drop-off. I figured the jacks and bluefish would be bigger out there and figured if they'd eat a surface popper inside, they'd eat it on the outside.... and I was right. bigger jacks started crushing the popper and the bluefish started to grow. It was amazing how they lit up bright blue in the tail as they came to hand after a long hard fight.
This was the last of 4 good bluefish on that same fly I started with, before we made the long cool bumpy run back to the boat ramp.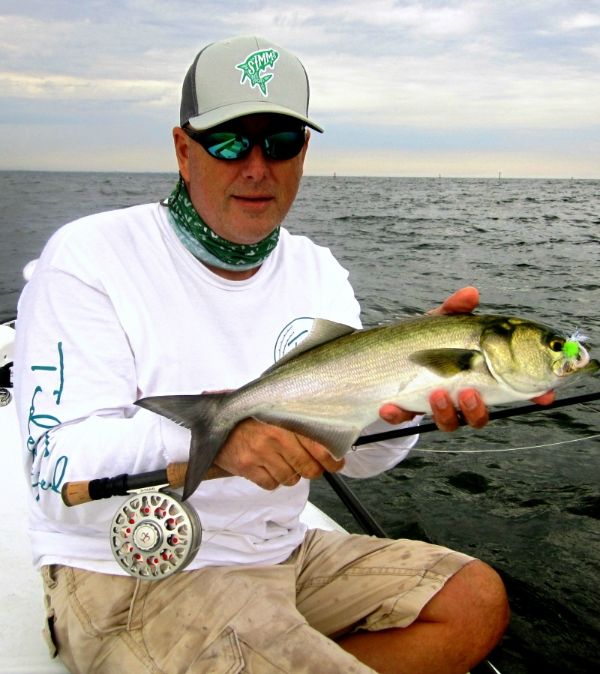 Final tally on that fly was 6 small and 6 average jacks (12 total) and 4 good bluefish before the fly got shredded with all those teeth. We took some video of the bluefish eats and trying to get them up and running. The eats were great!
This was all that was left of the fly when I cut it off that evening and set it on my fly desk.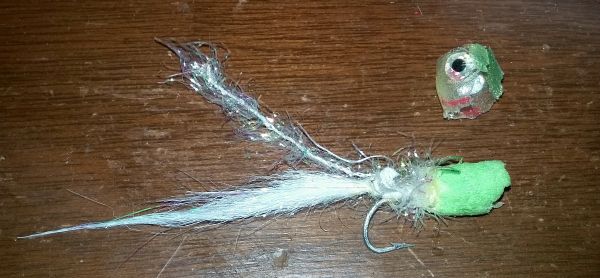 Believe it or not, I rebuilt the fly the next day using most of the materials and sharpen the hook back up.
You can see the fly recipe by scrolling down the thread in the link below.
http://www.microskiff.com/threads/whats-everyone-been-tying.22450/page-39
Ted Haas