Discussion Starter
·
#1
·
Day 1:
I just got home from deployment a couple weeks ago and I am finally in a position where I can actually build my boat and not just talk about it.  I've linked my previous brainstorming for those interested.
http://www.microskiff.com/cgi-bin/yabb2/YaBB.pl?num=1236166089/15
http://www.microskiff.com/cgi-bin/yabb2/YaBB.pl?num=1249763672
I ran to Lowe's today to get the wood to build my strongback.  I'll place my plywood order soon.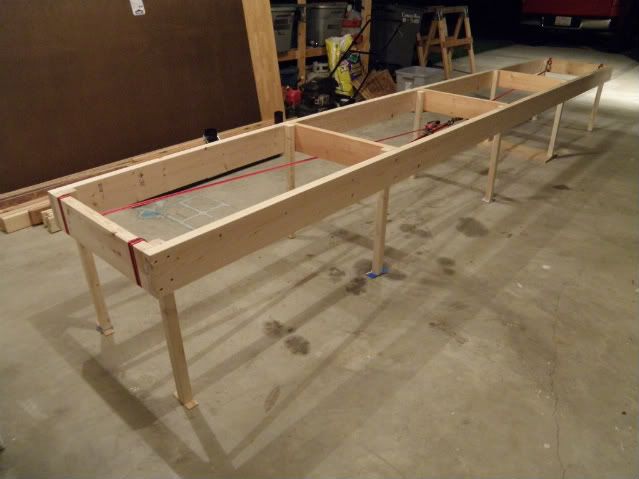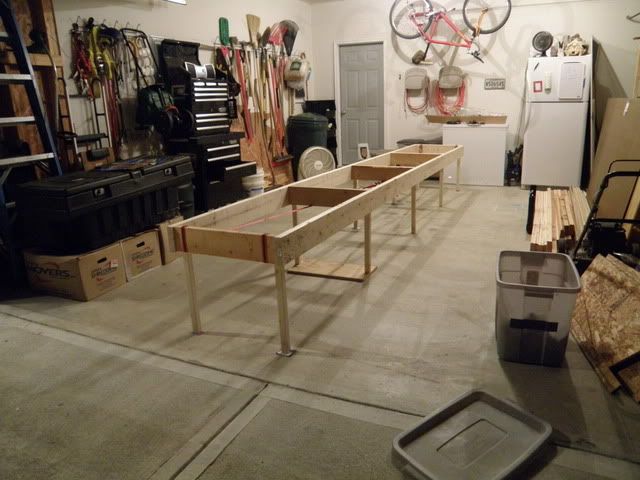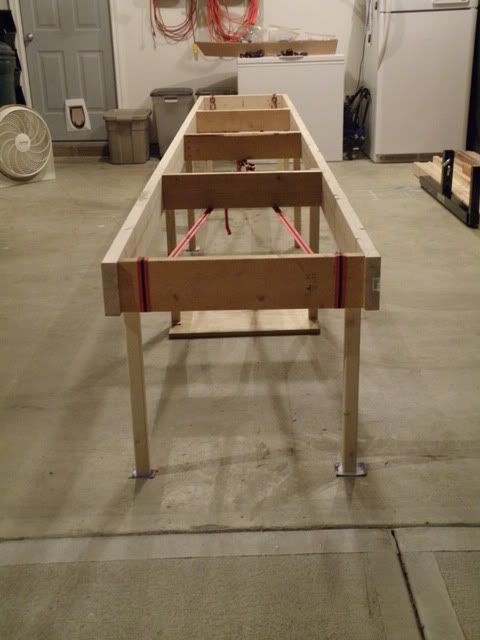 This is what a 16' ladder frame looks like in a 20' garage.  The frame clears the garage door by about 1/8".  This will be a cozy build.  Fortunately, a lot of the stuff in the way will be going to Goodwill very soon.
I was surprised how straight the 2x6's were at Lowe's.  I expected to have to make do with mildly warped wood, but these two 2x6's barely have a crown.  I used ratchet straps to get my diagonals even, but it didn't take much.  I might mount diagonal braces once I figure out where they won't be in the way.  I mounted the first four legs square and flush to the frame, shimmed it to level, then mounted the rest of the legs so they touched the floor, hence the discrepancies between the shims under the various legs.  It is now custom built to that 2x16' piece of my garage floor and I can't move it without altering the legs.  I am happy to observe that if my water heater ever leaks, the water will flow out of my garage. 
Tomorrow I think I'll cross brace those legs.  They are fairly solid now, but I bet sanding the hull will make the frame loosen up and start to wobble if I don't brace the legs a bit more.  I also hope to get the temp frames cut and mounted this weekend.  Then I'll wait for my plywood to show up.
Nate