Discussion Starter
·
#1
·
Preventative Maintenance
I sure you probably know but I have a 60HP Etec on my Copperhead.
Have not ran the boat in a month or so but wanted to share with you all what I came across.
I needed change my fuel filters today
After i unscrewed my water separator I emptied it into a clear container and it was very rusty.
I also removed my in line fuel filter and did the same and had a lot of sediment in it. I recommend wrapping a rag around it so the gas does not shoot everywhere.
I have just over 107 hours, so if you have not checked yours I would recommend it .
These is easy stuff that you dont have to be a mechanic to do.  I know that the first scheduled maintenance is not till 3 years or 300 hours but this needs to be done every 100.
The inline filter comes with the clamps and zip-tie.  I used my old CV boot clamp plier for the clamps and it was the right tool for the job.
Remember these motors and all motors for that matter dont like water or small particles.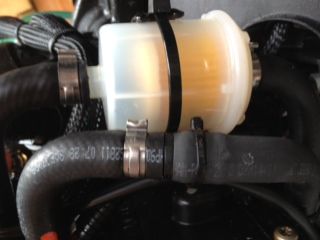 Hope this helps.  Any questions shoot me a line.