Discussion Starter
·
#1
·
I have been lurking around this site and batteau for the last couple months while planning my first rebuild project.  I picked up the boat/motor/trailer in Dec for $660.  Not a bad price, but not a great one either when you consider that each item (boat/motor/trailer) has a set of projects to go along with it.  Not sure if that is a good thing or a bad one as I probably have more time to work on a boat in the garage than to go fishing anyway.  (A 2 year old and a 1 year old make home-based entertainment much more feasible than non-home-based entertainment.)  It is a 1955 Lone Star Boats 14.  It is 60" at the widest point and 48" at the transom.  Here it is: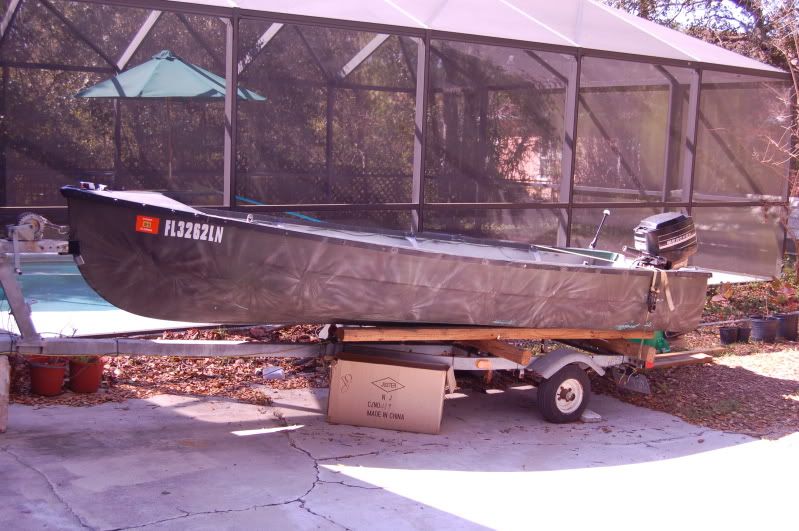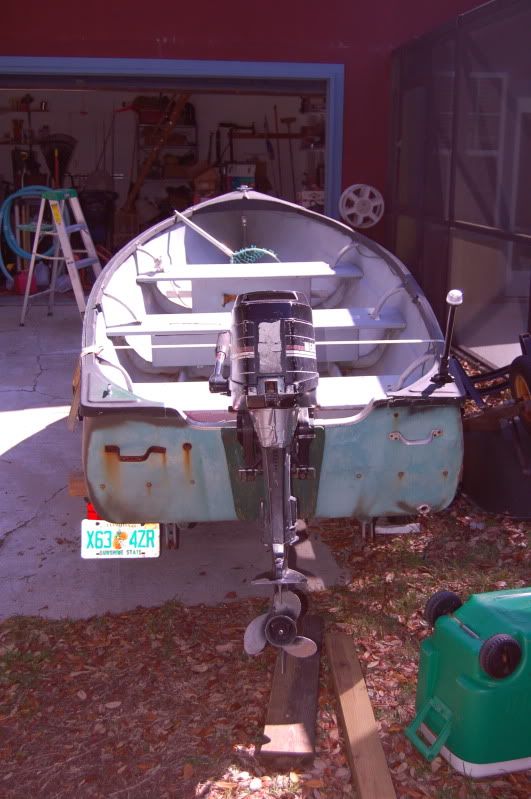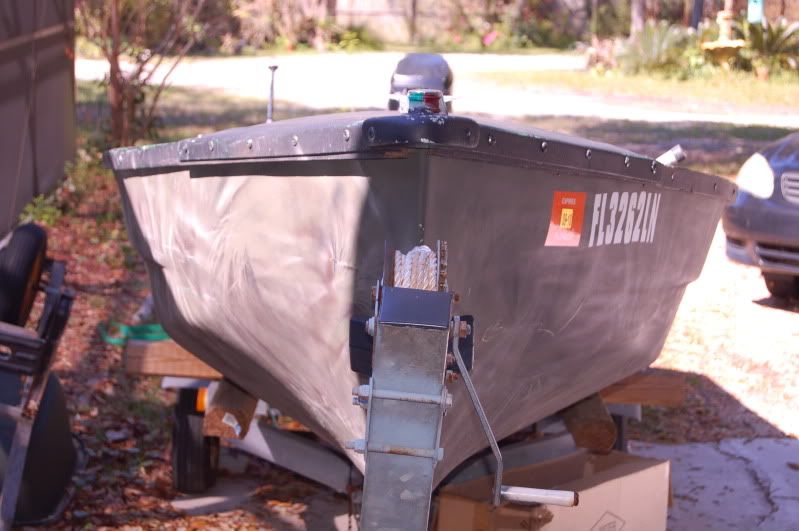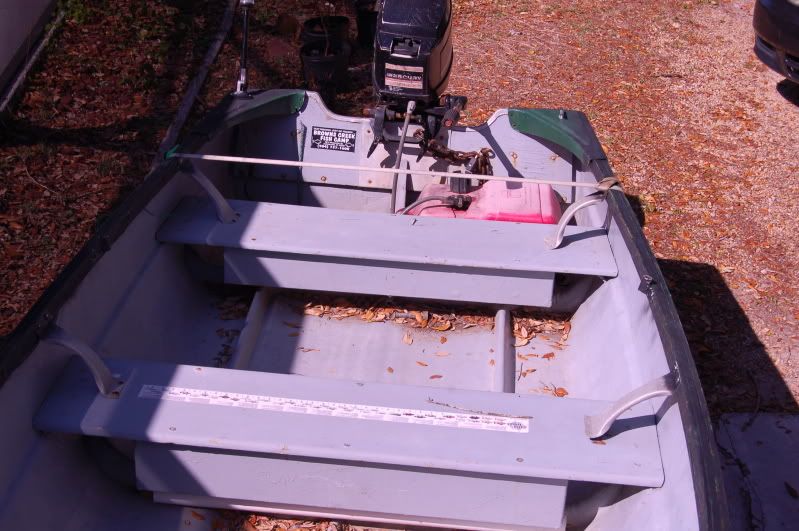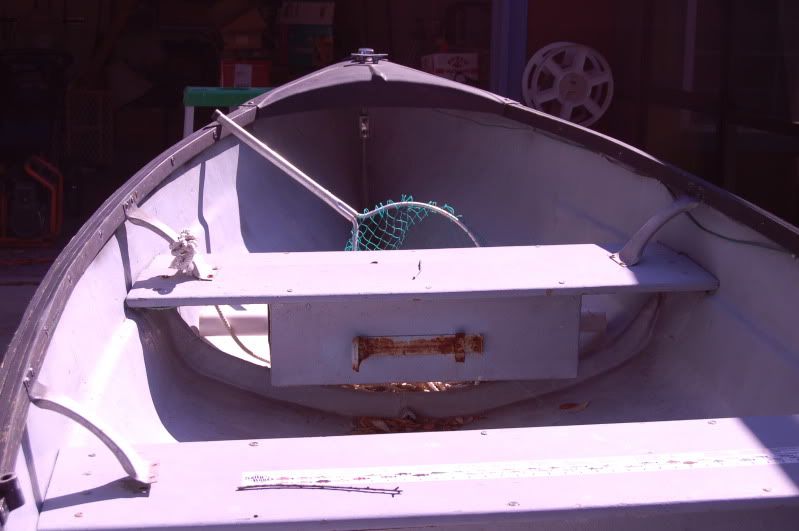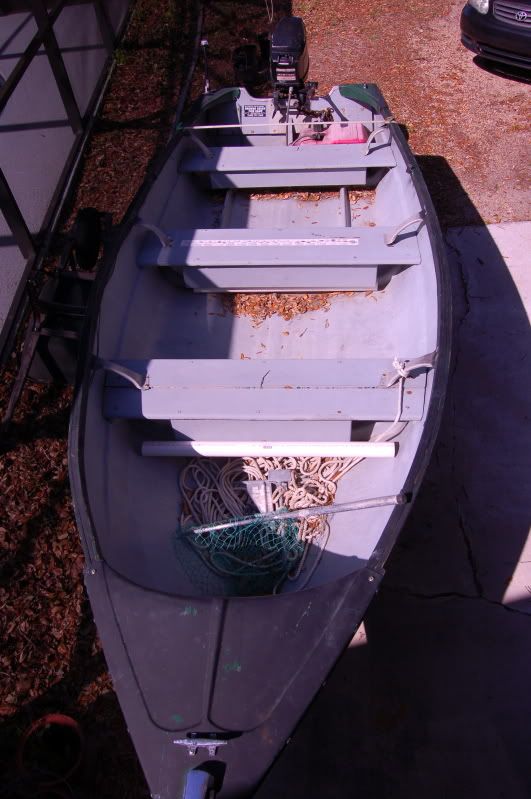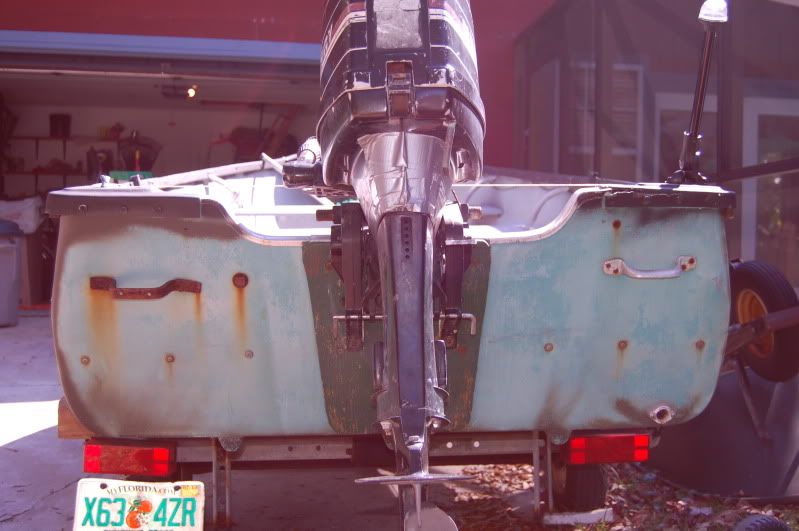 From the landscape timbers as trailer bunks to the duct tape on the motor, I have my work cut out for me.
The I am pretty much going to gut the hull and start over.  All the seats are coming out and I will have front and rear decking as well as creating a place (where the center seat is now) that will hold a cooler in place and have a small backrest.
On for the bow deck, I am going with a split level.  The top level will come back about 30 inches from the bow and allow for a trolling motor mount and a small casting deck.  The secondary deck will be at the current seat level and will extend back another 36 inches or so.  Under that will be battery storage and a livewell, as well as tubes on either side for rod storage. 
The center seat will be removed and I will put in a rib of 3/4 marine ply vertically oriented to give some stiffness and serve as the butt end of the rod holders.  The cooler will be fitted just in front of that rib and there will be a small removable backrest that attaches to the ply. 
The transom is gone and will be replaced and there will a rear deck about 30" long put in with a cut out for the motorwell.  The motor will be put on a mini jacker with a 4" set back and run with an ext handle. The motor runs and idles well, has good compression and pumps water.  It just isn't too pretty. (That alone made the $660 a good price.)
That is the basic game plan.  I am in way over my head but that is always more fun.  I am pretty sure that I can take a six hundred dollar boat and turn it into a boat that is worth at least two thousand, and it will only take me six months of work and four thousand in materials...the little voice in my head says: "go on craigslist right now and by a 16 foot lowe aluminum and be done with it."  But that would be too easy.
Now for the construction questions where I can use some help from you guys:
1. On the transom, I am planning on using 2 X ¾ marine plywood, laminated for the core.  How many layers and what weight of fiberglass tape and glass should I use?  I am thinking 2 or 3 layers of 1208 should do it.  On the tape, what is the reason for using 45/45 vs 0/90
2. The transom (about 48" wide) will braced with two stringers that come up to approx three inches from the top of the transom.  These stringers will form the main supports for the rear deck (about 30 inches in length).  The stringers will be about 18" apart and about 15" tall.  The deck will be notched out between the stringers to form a motorwell and the deck will be glassed into the transom on either side of the motorwell.  What size plywood should I use for the stringers, ½ or ¾ ?  Do I need to glass the entire stringer, or can I just tape the joints and coat them in epoxy?  If I glass them, what weight glass and how many layers?
3. What weight and how many layers of glass should be used for decking assuming I am using ½ marine ply?
4. I am going to build some buoyancy compartments front and rear and am wondering about the advantages/disadvantages in cutting Styrofoam blocks for those instead of two part foam. The compartments will be completely sealed/glassed closed.
5. I am planning on leaving this a fairly rough finish and don't really care how pretty it is at the end.  I don't want to worry about dropping a castnet on the deck.  I do want it to be tough though.  I have read lots of threads on deck paints and bottom paints and I am pretty much sold on the aluminum powder and epoxy for the bottom.  Can I do something similar for the interior of the boat just using some of the texture and pigment?  If I do that should i spring for the pricey UV stabilized epoxy.  Again, not looking for pretty, but I want real tough and don't want to be painting again in a year or two.  (Cheap doesn't hurt either.)
6. I am planning on putting a livewell in eventually and I am wondering about the location of the plumbing.  The well will be under the front deck. Can you put the intake and overflow drain in up there?  If not where is the best location?  I probably wont get into doing the well for quite a while, but I don't want to shoot myself in the foot by not planning for it.
Thanks in advance.  I will document the process here as well as I can.