Discussion Starter
•
#1
•
East Central Florida Saltwater Fishing Report
With the nice weather this week we got out several times and fished around. Thank you for reading this East Central Florida Saltwater Fishing Report!
FANTASTIC OFFER
We are still running the book offer- three of my book titles are now available for five cents each, only from my website. Thanks to all of you who have already taken advantage!
-
Flyrodding Florida Salt
-
How and Where to Catch Redfish in the Indian River Lagoon System
-
Fishing Florida's Space Coast
Shipping is still $5.95 each. The mailers cost money, the post office wants a cut, and the mail boy has to bring the package to the post office. But you can have each of these titles delivered to your door for six bucks until June 15. Act now!
M
y current reading material is
Basin and Range
, by John McPhee (If it's by McPhee you know it will be good!), a book about the geology of the southern Rocky Mountains. For a while I've been upset about rampant development and the loss of fisheries habitats. This book put everything in its proper perspective though.
Geologically speaking, in less than the blink of an eye we and all our works will be a part of the fossil record. Plastic lasts 500 years in the environment. What's that to the earth? A little lava here, and little magma there, some erosion, some deposition, and all that stuff will be gone.
The ocean will clean up the Indian River Lagoon, and the Everglades, and everything else, and some new species will be running things. So everything's good, unless you are a
**** sapiens
. Because of their behavior as a species, their outlook is pretty bleak. They are nowhere near as smart as they think they are.
FISHING!
Sunday-
Carey and Joey Cordell, father and son, joined me for a day's fishing on Mosquito Lagoon. The weather was amazing. We tossed soft plastics all day. The fish came in fitfully, and they were all small- four reds and maybe a dozen trout. We had a few shots at sight-fished, uncooperative reds, getting only one in spite of some ace casting by Joey.
Thank you for fishing with me, gentlemen!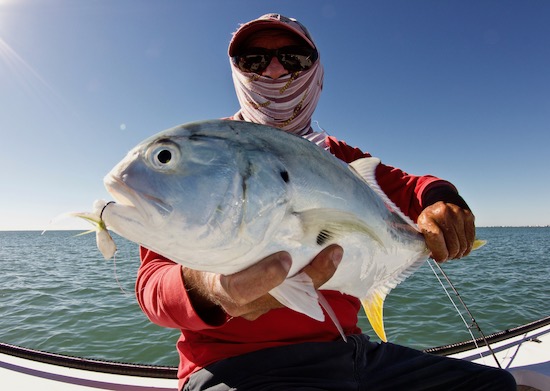 MONday
Launched the Mitzi at Port Canaveral- love the new construction there by the boat ramp!- and went up into the Bight. Again the weather was amazing. There were loads of fish along the beach- five-pound crevalle swimming near the surface in big schools, some bluefish, and quite a few Spanish mackerel. Got the fly rod and did some jack damage with a popper, great fun. Got some macs on streamers.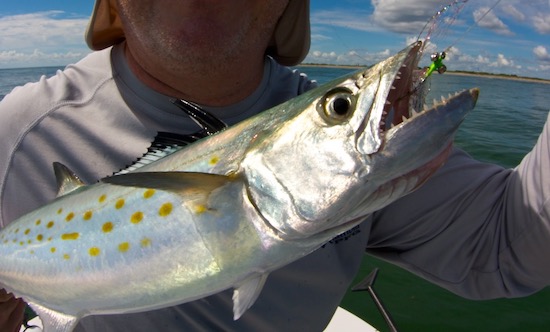 After getting my fill of the smaller fish I went looking for cobia, tripletail, etc. Zero success with that, though.
Tuesday
Beautiful weather again! Took Shawn Healy out after telling him how great it was Monday. Of course it was not at all great on Tuesday. We worked it hard for four hours with spin tackle, to the tune of three mackerel, two jacks, and one ladyfish. Slow fishing but better than no cheese.
Thursday
Took a kayak and a fly rod out on the Indian River with low expectations. They were met! Found a small clump of black drum. They would not play, even with a crab fly. Saw two redfish, did not get a shot. Got a skunk-busting ladyfish, blind-casting with a streamer. Was loaded up by noon.
That's this week's East Central Florida Saltwater Fishing Report! Thanks for reading!
Life is great and I love my work!
Life is short- Go Fishing!
John Kumiski
www.spottedtail.com
http://www.spottedtail.com/blog
www.johnkumiski.com
www.rentafishingbuddy.com
https://www.smashwords.com/profile/view/jkumiski
All content in this blog, including writing and photos, copyright John Kumiski 2019. All rights are reserved.