Discussion Starter
·
#1
·
Central Florida Smorgasbord Fishing Report
Thank you for reading this Central Florida Smorgasbord Fishing Report. I got out every day this week, and managed at least a few fish every day.
NEWS UPDATE
Today, February 1, the rules for taking seatrout change statewide. Here in east central Florida the slot changes from 15-20 inches to 15-19 inches. The bag limit per angler changes from four to two. Formerly, one fish of the bag limit could exceed the slot, per person. Now one fish may exceed the slot, per boat. For more info click this link-
https://content.govdelivery.com/accounts/FLFFWCC/bulletins/271263f
FISHING
Monday
was to be a scout day. I got to the Indian River and the boat battery was dead. I brought the boat home and put the battery on the charger. Then I hooked up the Bang-O-Craft and went to the St. Johns River. Four hours of casting turned up a half-dozen shad and a half-dozen crappie.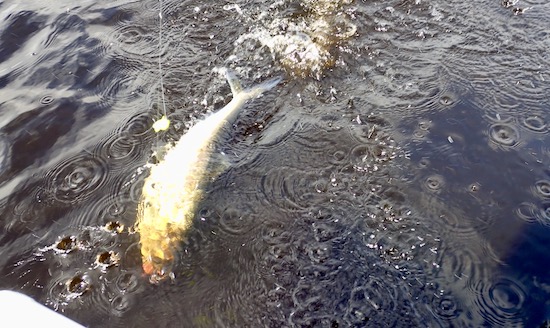 Shad boatside.
At the ramp when I got back was an FWC Creel Survey man. I like talking to those guys, you get some good information from them. He told me my six shad were the best report he'd gotten all week. Ouch.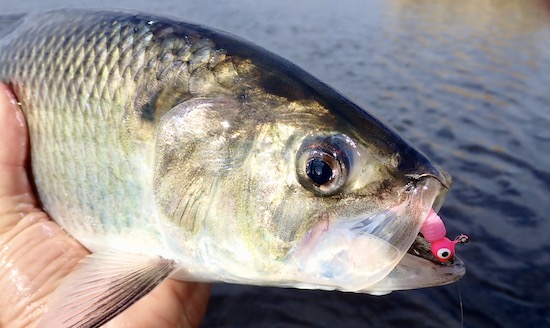 Tuesday
I launched at Beacon 42 for some scouting. It was blowing 10-15 and the water was full of mud. I got a few small trout and a floundah! Saw seven or eight decent reds, had shots at two. Both blew out when the lure hit the water. In general pickings were pretty slim.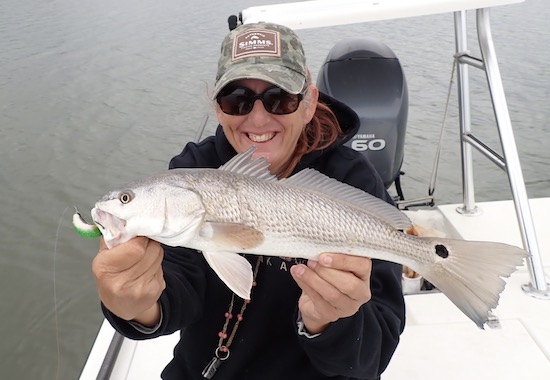 This picture is for Tammy's fans.
Wednesday
Tammy Wilson (who has fans!) joined me for that Indian River Lagoon scout. We went to three spots, did not see anything living. I pulled the boat and went to River Breeze. We got a couple redfish and a few smallish trout. In general pickings were pretty slim.
Thursday
Tom Campbell and Jack Florio joined me for some Mosquito Lagoon fishing. It was overcast, with a forecast of 10-20 out of the north, awesome weather for flats fishing. We launched at River Breeze and had a go of it.
We got five species of small fish- trout, flounder, catfish, puffer, and pinfish. When it started raining we packed it in. Pickings were really slim.
Friday
Tom and Jack joined me again. We launched at Beacon 42 this time. The wind was not blowing, although it was still overcast.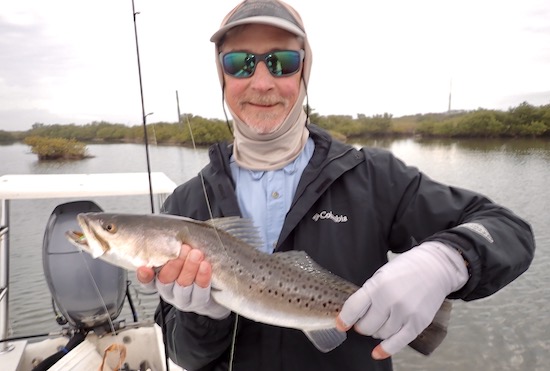 Jack with the best fish we got in two days.
We found a lot of trout. With two or three exceptions they were all small. We found a few redfish. They were all small too. Everyplace we looked for larger fish looked like a virtual biological desert. There is no grass, we saw no bait.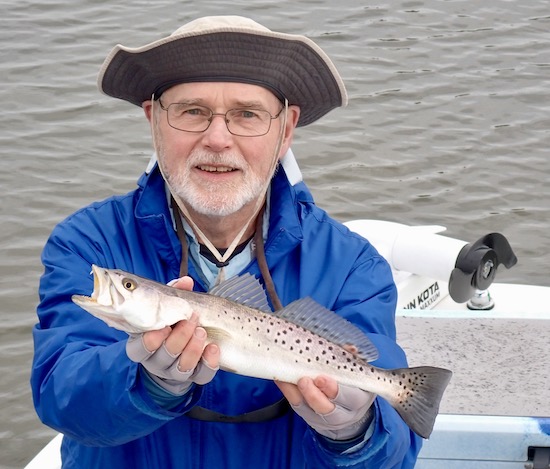 Tom with his best trout. It would have held batter!
Tom and Jack, thank you for fishing with me again, and good luck in the Keys!
And that's my Central Florida Smorgasbord fishing report. Thanks for reading it!
Life is great and I love my work!
Every day is a blessing. Don't waste it- Go Fishing!
John Kumiski, author of Fishing Florida by Paddle- An Angler's Guide
Purchase Fishing Florida by Paddle- An Angler's Guide at
http://www.spottedtail.com/fishing-florida-by-paddle/
All content in this blog, including writing and photos, copyright John Kumiski 2020. All rights are reserved.