Extending The Possibilities
Looking to get a handle on your outboard? Check out our tiller extension reviews.
microskiff.com introduces video reviews
Microskiff.com introduces our new video reviews.
Suzuki's DF25 Fourstroke Outboard
Microskiff.com tests the unique Suzuki DF25 "V-Twin" Outboard.
Extending The Possibilities
Looking to get a handle on your outboard? Check out our tiller extension reviews.
Venganza 13' Skimmer
Venganza, Spanish for revenge, is an unconventional name for a boat company. Christopher Collier, owner and builder, is an unconventional individual.
Four Stroke Foursome
Microskiff.com tests the latest four stroke technology in 25hp motors. Is the "weight" worth the reward?
Dragonfly Boatworks LLC - Midge 12 -14
We at microskiff.com profess to be all things micro. Admittedly we are not all things very micro, namely kayaks. See what we have to say about two new kayaks from a skiff company.
Chittum Skiffs Islamorada 18
New boat, new build, old name how well does it come together? Chittum Skiffs introduces the Islamorada 18.
Gheenoe LT 25 Review
Based on Harley Gheen senior's original design, son Harley "Pugar" Gheen Jr. produced unquestionably one of the most popular microskiffs on the market.
ESPN Outdoors.com features Fathers Day Slam
ESPN Outdoors.com features our Fathers Day fishing trip on their home page.
Beer and bears don't mix
Check out microskiff.com's review of the Tundra Series Coolers from Yeti Cooler
Old is New with Native Skiff
There is nothing like the feel of a brand new 44 year old hull design.
Something is brewing at microskiff.com
Summer time is here and microskiff.com is readying several summer reports, reviews and projects!
Project NMZ generated $10,000.00 in donations for the CCA Florida!
Microskiff.com would like to thank everyone who helped to make one tricked out project boat. The boat was donated to the CCA of Florida to generate dontations for youth educaton. The project went above and beyond generating $10,000.00 in donations for CCA Florida.
I want to thank everyone who helped us with this project, with out them none of this would have happened!

Product Review: Olympus Stylus 850SW
Cameras are either your friend or the spawn of Satan.
Elec-Trek Electric Kayak
Fish in Skinny water or just have fun on the water with your new Elec-Trek, (Electric Kayak) See our other line of products at www.dragonflyboatworksllc.com.
Redbone @ Large Sunrise/Sunset Tarpon Tourney at Hawk's Cay Resort in the Florida Keys
Under tough conditions 20 boats landed 31 tarpon in the 2009
NEW Product Review: Butt Rest Fishing Rod Holder
A what rest? Check out this small but useful too to add to your tackle box.
Winner: Microskiff.com Sticker Promotion
Forum member backwaterbandits wins the microskiff.com sticker contest by thinking small!
Project NMZ - CCA Broward Banquet
Friday night flash bulbs were going off as Project NMZ was pre-released at the annual CCA Broward County Banquet at the IGFA Museum. Project NMZ was a huge success. The skiff was the centerpiece for an incredible evening

Who's new 'Micro' is this?
Stable, quiet, shallow, oh and it's a 'Micro', see who the new kid on the block is with this entry into the microskiff market. The answer might surprise you!
• Read more
July of 2008 marks a very important time in the life of microskiff.com. The start of a new chapter has begun and we are looking forward to great things to come. Check out the forum and see what's new!
2007 Biggest Fish Results
The Microskiff.com forum hosted a year long fishing challenge to see who was catching quality fish. The stand out fisherman of the year by leaps and bounds was forum member Garry Amos of Titusville winning the Bass, Trout and Flounder categories. Congradulations to Weedy, LoneRanger and Tom_in_orl for their catches. Bragging rights for the largest Redfish belongs to the west coast this year!
2007 Microskiff Biggest Fish Challenge
The New ECC Caimen
Microskiff makers East Cape Canoes have added a new boat to their line up of technical poling skiffs. Pictured here is the 2007 ECC Caimen. Its a sweet hull thats getting good feedback from forum members. Check out this thread for more details: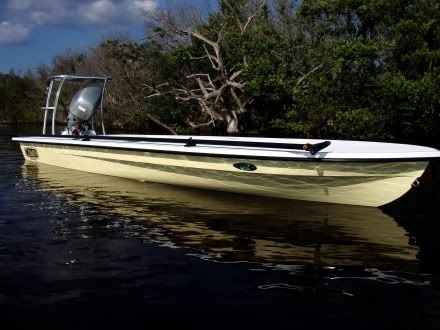 Check out the links on the right to see other ECC boats on the forum.
The New Gheenoe Low Tide 25
Its an exciting time at Custom Gheenoe. For 2007 they have launched two new models. The Low Tide 15 and the Low Tide 25. Pictured is Pugar Gheen with the very first Low Tide 25 built. This is a Low Deck model and has been used for testing and demo rides. Links to different forum posts with more pictures are on the right!
The New Hells Bay Glades Skiff
Every time I fish Mosquito Lagoon I try to eat lunch at a place on the water called JB's Fish Camp and Restaurant. Usually there are 10 - 20 regulars who you hang out on the various fishing forums. They come to JBs to enjoy good food and each others company. On this particular day there was an extra bonus. We bumped into the new owner of Hells Bay Boat Works. He was aboard a brand new 2007 Hells Bay Glades Skiff. You can read more here in my Forum Post.
Welcome to Microskiff.com
2/12/2007 You have found the only independent resource for information on the smallest of small skiffs. Here you will find information about popular microskiffs like the Gheenoe Classic and the East Cape Canoes Gladesmen. Those are some of the more popular boats but if you have heard of it or seen it built chances are we like to talk about it. Hells Bay Glades Skiffs, Riverhawk, Dusky 14, and the Sundowner Explorer are here too. Got something different that fits into the microskiff genre? Then head over to the forum and start posting.
Have a small skiff? Maybe bigger than what might be considered a true microskiff. No worries, you are still in good company. We welcome your posts and even your fishing reports. There are many friends of the microskiff community here. Some are previous microskiff owners who now fish bigger boats or even some with multiple boats.
Don't have a boat yet? Or are you thinking about getting something other than a kayak? Well, you know the drill. You are welcome here. Enjoy the site.
2006 in Review
1/1/2007 - 2006 saw the birth of microskiff.com. In the three weeks that the site has been on-line we have had 112 people join the forum. 71 people posted and were adopted as founding members. I am sure this will be a badge of honor in months and years to come. In December we have averaged 24000 hits per day and over 2500 unique visitors. This is truly astounding.
Fishing in 2006 was also good. A majority of folks frequenting the site are from Florida and fish for either inshore saltwater species or freshwater bass. Not only on this forum but the others listed in our recommended links section continually saw regular post from members catching and releasing fish that exceeded their allowed bag limits. With strong conservation minded bag limits all ready in place I expect that 2007 will be another good year.
As 2007 kicks off I would like to share some of my goals for this site.
Remain true to the objectives stated on the about page.
Host a web site for everyone who enjoys microskiffs.
Be a place that provides lots of positive information about our watercraft and its uses.
Host a forum/meeting place where people can first share information and second build friendships.
Provide a place that is positive and welcoming to people who are new to our genre of boating.
Fill up the product review section with content.
Get an online store going so people can get microskiff.com schwag.
Feature boats in a section called Microskiff of the Month.
Host a few online funament fishing events.
Leave some time for fishing.......
Happy new year!
tom_in_orl
12/25/2006 - Here I sit enjoying friends and family for the holidays but I can not help thinking that the greatest gift I have received this year is the all of the fishing opportunities that I were a result of forums like this one. Everyone who visits this site, Custom Gheenoe, East Cape Canoes, Inshore-Fishing.com, Florida Sportsman and the countless others that are out there really should take a moment and reflect on what their boating and fishing experiences would have been with out these places. I can honestly say I would have 100 - 200 less friends this year if it was not for the forums and the great people who frequent them. So to all of you thanks for everything you have given me this year. I hope that 2007 is even more special.
12/11/2006 - Humble beginnings. That is where we are now. But with your help this could be a lot of fun. Right now the site is a shell. The forum is up and running. Microskiff.com was created when another small boat forum crashed for the second time in a year. My addiction was so severe that I could not deal with the down time.
The truth is that there are several different forums out there that are specific to Gheenoes or East Cape Canoes. There is also a bunch of orphans out there like the River Hawk owners. This site and its forum is meant to provide a place where all microskiff owners can come and share their ideas and experiences in a positive atmosphere.
So for now enjoy the forum and watch a new site grow.